.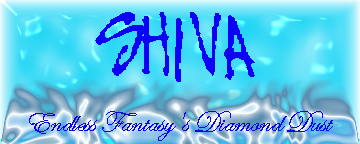 Welcome to Shivas page! We are already so proud of this little girl, just for being herself, and if she never gets her title, then thatll be O.K., too! Shiva was given to us by a very good friend of ours, Yendi. After asking her if it would be alright to give Shiva the Endless Fantasy name, she said that would be alright, and gave us her blessing! So, Shiva becomes our Foundation Bitch here at Endless Fantasy! We are proud to have her!
Shiva is a beautiful white with little highlights of blonde in all the right places. She, so far, fits the standard perfectly, with a nice scissors bite, the beautiful dark eyes, the massive headeverything about her is beautiful and well proportioned. We fully intend to show this lovely girl (as soon as she gets more of her basic training down-pat), and then breed her.
This may come as a surprise to you, us saying that we fully intend to breed her, but please understand that there are very few Akitas here on Island, and, due to pet importation laws, there wont be any more. Thats where we come in. There are a somewhat small group of us (responsible Akita owners) who dont want to see this wonderful breed die out here on Island. We want to also limit (if not eliminate) inbreeding, which is very common. We are setting up a RESPONSIBLE breeding program for our beloved Akitas. We do realize that at some point, there will have to be some line breeding, but we want to make sure that it will not affect the breed as a whole here on Island. Thats why weve come together to carefully plan breeding schedules, and have made choices on whos Akitas attributes would best compliment the others, and make a good, sound litter or two. We do not plan on over breeding, either, or even keeping all of the offspring intact. We will still follow breeding rules that we feel will keep us humane, but still keep the Akita from dying out. Our bitches will not be bred before they are at LEAST 18 months old, or by their second heat, and our dogs will be at least 18 months old, also, so we can be sure of there traits and characteristics.
We are doing our best to save the Akita here, and still maintain our beliefs of responsible breeding. All of the puppies will be sold for the vet bills. Nothing else. Interviews for prospective owners are already being set up for a litter (our first as a group! We are all very excited!) due in a few weeks!
Shiva, our sweet little girl, is loved VERY much. She ALWAYS will be, no matter what! Keep in touch for more information on how Shiva is doing with her title, and later, see how her pups are doing!